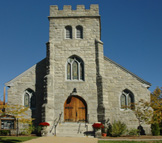 Welcome to the Holy Trinity Greek Orthodox Church located at 68 North State Street in Concord, New Hampshire. We encourage you to browse our newly designed parish web-site in order to learn more about the Greek Orthodox Faith and the ministries and programs of our Holy Trinity community.
The Holy Trinity Greek Orthodox Church is a parish under the spiritual and ecclesiastical shepherding of His Eminence Metropolitan Methodios, the presiding Hierarch of the Greek Orthodox Metropolis of Boston of the Greek Orthodox Archdiocese of America under the jurisdiction of His All-Holiness Bartholomew I, Archbishop of Constantinople and Ecumenical Patriarch.
---
Services Schedule
Sundays: Orthros 9:00 am; Divine Liturgy 10:00 am
Weekdays: Divine Liturgy 10:00 am
CHRISTOS ANESTI! CHRIST IS RISEN!